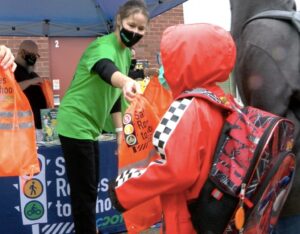 International School Walk Day encourages students to walk or cycle to school and promotes safe practices and routes.
Students from Summit Hall Elementary School in Gaithersburg arrived at a lively Walk to School Day event on Wednesday morning. Montgomery County leaders, fire / rescue personnel and playful mascots interacted with the children while promoting safe trips to school. It's a fun event that encourages kids to come to school enthusiastic and make it home safely, said County Council member Will Jawando.
The event is observed annually on the first Wednesday in October. As winter approaches, some middle school and high school students will be walking before sunrise, said Scott Goldstein, chief of the County Fire and Rescue Service (MCFRS). He encouraged these students to remove distractions like headphones so that they could listen to oncoming cars. They should walk in appropriate areas like sidewalks and cross the street at crosswalks and in well-lit areas. Goldstein said drivers should slow down, eliminate distractions and watch out for students. They should not talk on the phone and should be attentive and focused when driving in a school zone.
As the county tries to mitigate the effects of climate change, walking is a great way to get to school without emitting carbon dioxide and other pollutants, said Chris Conklin, director of the Department of Transportation of the county. The event is also part of the county's Vision Zero initiative which aims to end serious and fatal collisions by 2030.
Source link